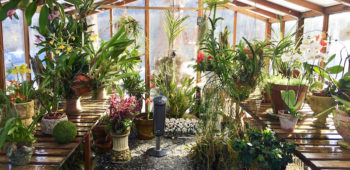 Choosing a backyard greenhouse is one of the most exciting steps in the journey of home gardening: truly, a backyard greenhouse takes your garden to the next level, allowing you to grow beautiful plants from all over the world no matter what climate you live in. That said, it's also a major decision. Ideally, your greenhouse will last you up to 20 years or more – so choose wisely, as this decision will impact your home gardening practice for years to come. Here are a few of the most important things to look for when choosing a greenhouse for your backyard.
Go for Quality That Lasts
Perhaps the most important thing to do when choosing a greenhouse is to choose one of high quality. You need your greenhouse to last you for decades or more, and trying to save some cash by buying a cheap greenhouse made in China will only hurt you in the end. Instead, opt for a greenhouse made from excellent, high-quality materials and constructed with care and craftsmanship. A great greenhouse will pay off by lasting you for years and bringing you harvest after harvest of beautiful, bountiful plants.
Don't Forget the Climate
A greenhouse vastly expands the number of plants you can grow by giving you a way to protect your crops from the ambient climate – but you'll also need climate control systems to truly take advantage of this. Don't forget to also consider cooling vents, fans, space heaters, and humidity controls when choosing your greenhouse. In addition, you'll want to consider your home climate when choosing greenhouse materials. While tempered glass offers great protection for a wide range of climates, thicker double-wall polycarbonate may be a better option for colder areas.
Utilities
Finally, you'll need to consider how you'll get water and electricity to the greenhouse. If your greenhouse is close to your home, this may be as simple as a long hose and a long extension cord – and for many home gardeners, that works just fine. If you'd like a more robust greenhouse that's self-sufficient, however, you may consider putting in a direct water, electricity, or gas line to your greenhouse. This gives you the freedom to supply your plants with everything they need to grow without needing to worry about the danger of extension cords and hoses.
Order Your Own DIY Backyard Redwood Greenhouse
Getting your first greenhouse is one of the most exciting parts of home gardening, and with some care and consideration, you can choose a greenhouse that rewards you with decades of beautiful, luscious plants. If you'd like to see some examples of high-quality redwood or aluminum greenhouses, feel free to request your free copy of our complete product catalog or view our greenhouse gallery, where you'll find descriptions and beautiful full-color photos of our premium backyard greenhouses. As always, if you have any questions about greenhouses, growing plants, or home gardening in general, we're here for you: just give us a call at 800.544.5276 or reach out to us at our contact page. We can't wait to hear from you, and we're excited to help you make the most of your home garden!