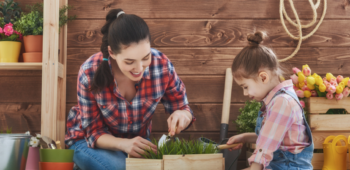 One of the great joys of home gardening is getting to experience the seasons in their most creative form: watching your plants change, shrink, grow, fruit, and bloom over the course of the year. While having a redwood or aluminum greenhouse in your backyard can give you more control over how the seasons affect your plants, it's still a good idea to respect the natural seasons of your climate whenever you're gardening. At SB Greenhouses, we're proud to have nearly 50 years of experience building beautiful, craftsman-quality greenhouses for gardeners all over the nation – so we know a thing or two about gardening through the seasons! Here are a few seasonal tips for gardening during spring. By taking a few simple steps, you can help your plants flourish during the coming warmth of the summer months.
Spring Cleaning Isn't Just for Houses
Spring is often thought of as a cleaning season – and that goes for your garden as well. Spring is a great opportunity to clean up your garden or greenhouse, taking care to check every plant and patch of soil for weeds and debris. Clean away any dead debris and pull up any weeds, and be sure to get the root so they don't come back. Spring is also a great time to reorganize your garden, as your plants will have an entire growing season to adapt to new locations and conditions.
Go Below the Surface
Another great gardening ritual during spring is to reinvigorate the soil your plants are living in. Often, the soil will be dried out and deficient of nutrients after a cold winter. Spring is an ideal time to add new soil, change out soil that's dry or rotten, and add mulch to ensure your plants always have a good supply of the nutrients they need to grow.
Prune, Prune, Prune
Finally, spring is a great time to prune and trim your plants. While you'd normally need to wait til the end of spring to prune to make sure there's not an unexpected frost, with a backyard greenhouse, that's not really a concern. This means you have the freedom to prune when it best suits your plants! Prune back summer plants during the early part of spring, which gives them plenty of time to ramp up growth moving into summer. For flowering plants, you'll want to wait until they bloom to prune them so you avoid accidentally cutting off young buds. With a little bit of care, pruning can stimulate new growth in your plants and keep them healthy clear through to next spring.
Order Your DIY Backyard Greenhouse Today
Spring is one of the most fun times of year for home gardening, as it's a chance to reinvigorate your garden and set your plants up for another year of healthy growing. That said, spring is even more fun when you have your own backyard greenhouse to grow plants in – and if you're interested in taking the next step on the journey of home gardening and getting a greenhouse for your own backyard, we here at SB Greenhouses would be thrilled to help. Feel free to call us at 800.544.5276 with any questions about our greenhouses or gardening in general, and if you'd like to learn more about our products, we encourage you to request your free copy of our complete product catalog. In it, you'll find all the information you need to know about our world-class greenhouses along with beautiful, full-color pictures of every model. We hope you found these tips helpful, and we wish you luck in making this spring a the best yet for your garden!