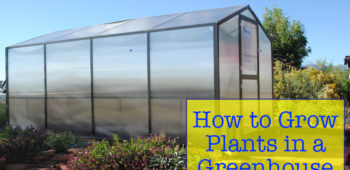 So you've just set up your own backyard greenhouse, and you're excited to explore the new frontiers of home gardening – but just how do you grow in a greenhouse, anyways? At SB Greenhouses, we've been helping home gardeners all over the country experience the magic of growing plants in a gorgeous redwood greenhouse for decades. Having a backyard greenhouse dramatically expands the possibilities of what you can grow, but it also means you'll need to take a slightly different approach than you would when gardening in an open-air plot of land.
A Greenhouse Comes with Freedom, but Also Responsibility
A greenhouse allows you to grow more types of plants because it gives you increased control over your growing environment. Unlike open-air gardening, growing in a greenhouse gives you control over the humidity, soil type, water schedule, temperature, and nutrient mix for your plants, letting you grow exciting varietals like tropical orchids even in an arid environment. That said, being in control means you need to be diligent about giving your plants all they need. If you don't water them and monitor atmospheric conditions, no one will!
Plan Ahead
Doing some planning before you set up your greenhouse can prevent serious headaches in the long run. When designing your greenhouse layout, be sure to think about logistics. Arrange your benches and any heavy pots so you have space to move around and can easily reach every area of the greenhouse: there's nothing worse than bolting everything in only to find you can barely reach one corner of the greenhouse.
Inspect & Clean Diligently
Because it's a closed environment, greenhouses can sometimes make it easier for fungus and other diseases to spread. To avoid this, be sure to inspect your greenhouse and keep it as clean as possible. While dead plant material simply decomposes in a soil garden, in a greenhouse, it can easily grow a fungus that infects your plants – so be sure to clean and tidy up regularly.
Order Your Own Backyard Greenhouse Today
While greenhouses require a different approach to gardening, they vastly expand the possibilities of what you can grow. Just imagine the delight of picking fresh, vibrant lemons in the dead of winter! If you'd like to experience the joy of gardening in your very own backyard greenhouse, SB Greenhouses would love to help. We've been building premium, craftsman-quality greenhouses for a generation, and we have something for virtually every growing climate. Reach out to us at our contact page to place an order, or request your free copy of our complete product catalog to see everything we have to offer. We're excited for you to enter this next chapter of home gardening!