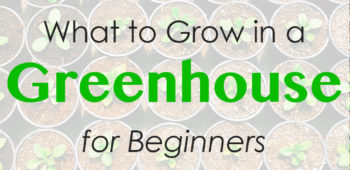 A backyard greenhouse is one of the most liberating things to own for a home gardener – it gives you a fully controllable environment, allowing you to grow beautiful tropical plants even in a cold, dry climate. That said, many beginning gardeners worry that a greenhouse can only be used by an "experienced" gardener. That couldn't be farther from the truth! A greenhouse is an ideal environment for learning how to garden, and even beginning gardeners can benefit from growing in a greenhouse. To provide a little inspiration, here are our tips for the best plants for beginners to grow in a greenhouse.
Cold Season Crops
For the best chances at success, you'll want to grow plants that follow the seasons. To that end, even if you're heating your greenhouse during winter, it's best to grow cold season crops over the wintertime. Crops like peas, broccoli, lettuce, and carrots are all excellent choices for cold season crops – each of these plants is hardy and can tolerate chilly winter nights. Plus, you'll get to enjoy the fruits of your labor with fresh, delicious vegetables picked straight from your greenhouse!
Warm Season Crops
During the summer, you can branch out and try other families of vegetables. Tomatoes, summer squash, peppers, and cucumbers all make excellent crops for beginning gardeners. They thrive in warmer weather and don't take too much tending too, and each of them can be incorporated into many recipes to let you experience the joy of eating veggies you grew with your own hands.
Growing an Herb Garden
Another great plant group for beginning greenhouse gardeners is herbs. Herbs thrive in a greenhouse setting, and because they're so flavorful, you can create a sizable harvest with relatively few plants and little space. For beginners, we'd recommend trying the following herbs in your greenhouse:
Basil
Dill
Cilantro
Parsley
Mint (highly invasive, best grown in its own container)
Chives
Each of these herbs are easy to take care of, work great in a greenhouse, and can add a delicious kick of flavor to almost any dish!
Build Your Own Backyard Redwood Greenhouse
Of course, to grow all of these plants, you'll need a quality backyard greenhouse – and at SB Greenhouses, that's what we've been creating for over 40 years. Each one of our DIY greenhouses features the same craftsmanship and world-class materials, giving you a product you can rely on for decades to come. Request your free copy of our product catalog for more in-depth information on our greenhouses, or if you'd like to talk about which greenhouse is right for you, feel free to call us at 800.544.5276. We'll take the time to talk with you, answer your questions, and help you make the right choice on a backyard greenhouse – or, if you just have a few questions on the best strategies for raising big summer squash, we're happy to answer those too. We hope to hear from you soon, and we wish you luck in growing beautiful crops in your greenhouse!