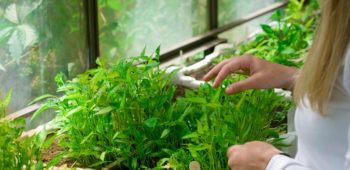 At SB Greenhouses, we've spent almost half a century helping people all over the nation experience the joys of home gardening, even if they live in an unforgiving climate. We're proud to construct beautiful, high-quality greenhouses from premium materials like clear California Redwood or heavy-duty aluminum, and we put care, craft, and attention into every product we make in our Santa Barbara facility. As experts in home gardening and backyard greenhouses, we know the uses and benefits of a backyard greenhouse as well as we know, well, our own backyard. But for someone new to home gardening, those benefits may not be so obvious. Why would you need a greenhouse, after all?
The Practical Benefits of a Backyard Greenhouse
At a basic level, a backyard greenhouse offers a wide variety of practical benefits for your home garden. For one thing, greenhouses provide ideal insulation and climate control. Our thick, twin-wall polycarbonate frames allow superior protection from harsh climates and the elements, keeping your plants safe from frost, too much rain, or biting winds. Having a backyard greenhouse lets you garden year round, so you don't have to give up your beautiful flowers and delicious vegetables just because the ground is covered in snow drifts.
Even for warmer climates, a greenhouse provides climate control and protection from a burning sun. With a climate controlled heating and cooling system for your greenhouse, you can keep your plants at a perfect 77º F all through a cold desert night while also protecting them overheating during hot summer days. Plus, with an opaque polycarbonate roof on your greenhouse, you can prevent your more fragile plants from scorching under hot, direct rays from the sun.
A Personal Oasis Only a Few Steps Away
But more than just helping you garden on a practical level, a backyard greenhouse is a change to your lifestyle for the better. Having a beautiful Redwood or aluminum greenhouse in your backyard gives you a private, plant-filled oasis that you can enjoy during cold mornings, hot afternoons, or quiet nights – a place you can go to rest, to relax, and to recharge after a tiring day or a draining week. With a greenhouse, you'll have the freedom to grow whatever you like: whether you want to fill your home with fresh-cut flowers the whole year round or experience the unique pleasure of cooking a meal out of ingredients you grew with your bare hands, a greenhouse lets you disconnect from the produce aisle at your supermarket and re-engage with the ancient ritual of cultivating plants. Truly, a greenhouse is an oasis: and it's one you can enjoy day after day after day, for the rest of your life.
Build Your Own Backyard Greenhouse
Whether you're new to home gardening or approaching your 50th year of growing crops, at SB Greenhouses, we're to help you deepen your practice of gardening. Feel free to call us at 800.544.5276 with any questions on our products or gardening in general, and if you'd like to learn more about everything we have to offer, we encourage you to request your free copy of our product catalog. We hope to hear from you soon, and until next time, we hope you enjoy all the pleasures of home gardening to the absolute fullest.