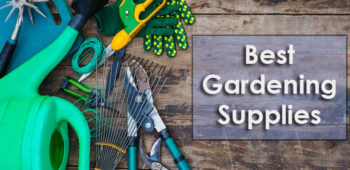 Home gardening is a timeless passion, and at Santa Barbara Greenhouses, our mission is to help you grow the best plants possible in your own DIY backyard greenhouse. We're proud to make artisan-quality backyard greenhouses from high-grade materials like clear California redwood and super-durable aluminum, but it takes more than a backyard greenhouse to grow great plants! Here are a few of our favorite gardening tools to try out – whether you're just getting started as a home gardener or have had a green thumb for decades, these tools will help make this year's crop your best yet!
You know that old adage about spending money on buying high-quality tools, so you don't end up losing more money in the end by replacing low-quality tools when they break? We think that's great advice, but the Wilcox Stainless Steel Trowel pretty much makes it meaningless. This is without a doubt one of the best trowels on the market, equally likely to impress a veteran gardener as a first-timer. Thanks to its one-piece construction, it's one of the most durable trowels available and could well last a lifetime – and for about $20 on Amazon, it's hard to beat.
Few tools are quite as useful as a good gardening knife, so when you get one for yourself, you want it to be a good one – and the Hori Hori excels in every category. Solidly constructed from stainless steel, the Hori Hori is equally at home breaking up tough dirt as it is cutting out weed root balls, and it features both a smooth blade, a serrated blade, and both inch and millimeter markings so you can measure planting depths easily. Amazon sells it for just $40, making it a true steal for any home gardener!
Another gardening tool you need to be high-quality is your working gloves. Gloves are vital to keeping your hands happy while gardening, and a bad pair of gloves can give you no peace from blisters and cuts. These gloves are unique in being made from bamboo fibers, which gives them a remarkable blend of strength, breathability, and comfort. For just $10 on Amazon, your hands are sure to thank you for years to come!
Get Your Own DIY Backyard Redwood Greenhouse Today!
Of course, all the tools in the world won't help you if your plants die from a frost or a windstorm – but SB Greenhouses is here to help. We're proud to make some of the finest backyard greenhouse kits in the world, and we combine superior-quality materials with unmatched quality and craftsmanship to create greenhouses that'll help you grow the best crops you ever have. Reach out to us at our contact page if you have any questions about our products or home gardening in general, and if you'd like to get an overview of everything we have to offer, get your free copy of our complete product catalog. Whether you're a first-time gardener or a seasoned veteran of home gardening, we hope these tools – and our greenhouses – help you make this year's crop your best yet!