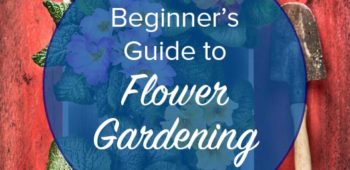 For a home gardener, nothing quite beats the satisfaction of cutting a gorgeous bouquet of fresh flowers right from your garden, arranging them in a vase, and putting them on display right in the comfort of your home. At SB Greenhouses, our mission has been to help home gardeners all over the country get to enjoy that feeling through our high-quality backyard greenhouses. Whether you're gardening in your own backyard greenhouse or a plot of open-air soil, here are some simple tips for growing flowers as a beginning gardener.
Start with Easy Flowers
Flowers are a rewarding crop to cultivate because there are so many different kinds – but for a beginning gardener, it's best to start with easy varietals. While you can work your way up to more advanced tropical flowers like tropical orchids, we recommend starting with hardy flowers that are easier to cultivate. Sunflowers are a classic for warmer climates, and growing fuchsia, California poppy, marigolds, or pansy flowers are also sure to be rewarding.
Research Before You Plant
Every plant is different, and each variety requires different conditions and types of care. Before planting, select the species you want to cultivate and do plenty of research on what they need to thrive. Tailoring your gardening to each individual plant's needs will help you grow a more beautiful garden in the long run.
Grow from the Ground Up
Often, beginning gardeners assume they need a quarter-acre plot to start gardening – but that couldn't be farther from the truth. If you're constrained on space, consider growing vines or climbing plants. Installing a simple trellis or growing a climbing plant against a wall can let you grow a lush garden even on a tiny plot of soil.
Order a Beautiful DIY Redwood Greenhouse
For many climates, it's easy to grow flowers out in the open air – but for those growing in areas with frigid winters, strong summers, or those who want to take on more advanced plants, a backyard greenhouse is the best way to grow gorgeous plants in any season. At SB Greenhouses, we've been proudly making world-class Redwood and aluminum greenhouses for over 40 years. Request your free copy of our product catalog to see everything we have to offer, and if you'd like to place an order or just have a few more questions about growing flowers, don't hesitate to call us at 800.544.5276. We hope to hear from you and we wish you luck in growing a gorgeous garden of thriving flowers!